I talk to the head coach of U11 first team of Feyenoord Rotterdam football academy – Martijn de Vries.
We observed your team at the Legia Cup and you made a great impression on the parents from Poland. We are very curious about the work and training system of children at the U11 Feyenoord Rotterdam Academy. Thank you for giving me the opportunity to talk to you.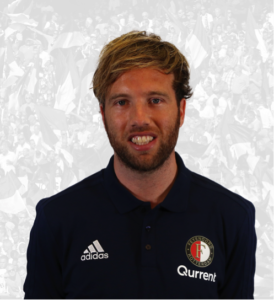 Can you please tell me how is the selection of young footballers in the age category U11 done in Feyenoord Rotterdam?
The Feyenoord Academy starts at U7. With specialized trainers and age-focused training we try to develop the player as good as possible. Each season we monitor the progression of our teams closely and scout new players when necessary, preferably from the region. We put a lot of effort (time and energy) and faith in our academy players which pays of really well in a lot of cases. We want to help them become the best of themselves that they can be. Unfortunately, sometimes it is also the case that a player, for whatever reason, can not keep up with the progression required. In the best interest of both player and club we then look for adding a new player to the squad.
How is it done for older age categories?
At the older age groups the basic principle is the same. However, with the level of play becoming higher and higher, it is more difficult to find talent from amateur clubs. Because of this we have a closer eye on other professional clubs and their players.
Do you look at the players from other countries for example Poland? How is it done in practice?
Feyenoord is specifically interested at young players from other countries in the age category 16 to 19 years. Whenever we scout a player that is better than one in the academy, and it is financially possible, than we possibly enroll them into our academy.
If there is a young football player from other country you like what can you (Feyenoord Rotterdam) offer such a young footballer and his parents?
When attracting players from another country, we assist them in coming over to our academy. Within the club we employ staff that assist foreign players (e.g. a social manager and intermediary). We put together a personalized plan for each situation. E.g: the choice for a host family or an apartment.
What are your (Feyenoord Rotterdam) training methods of working with children?
We want players to think about their own development, because they are responsible for their own development. Our training methods are focused on this principle. During the week players from different ages train together, in order to have good examples. Our aim is to have coaches who are experts with their own age groups. Therefore they know everything about players from a certain age. Every child is different, that is the most important thing to keep in mind.
What are the criteria of choosing young football players for the first team of Feyenoord Rotterdam U11 age category?
We want players in our teams with skills in as many areas that are important in football. Technically, tactics and reading the game.
What physical characteristics do the players from the U11 first team possess?
Physically players of U11 differ from each other. We have players who are very strong and tall for their age, but also players that are very small and light. The combination makes a strong U11. They can also help each other on the pitch.
How many players are part of the U11 first team and how many coaches are in charge of the team?
In U11 squad we have 17 players and 2 goalkeepers.
During training I have a permanent assistant Brian Yzebaart.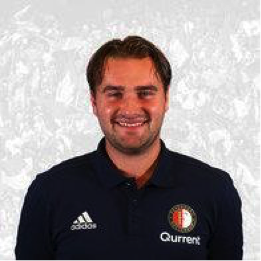 On Saturday a team manager (Dylan Vermeeren) is present,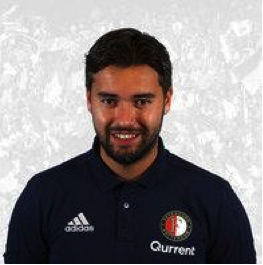 and a physiotherapist (Rik Fast) is as well.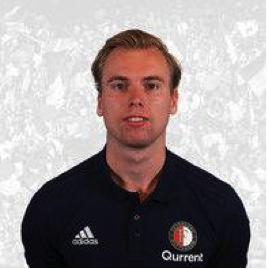 How many trainings does first U11 team have during the week and do you play additionally any sparings/games during the weekends?
The players get out on the pitch three times per week (Monday, Wednesday and Thursday) from 17:15 to 18:45. In addition, we play on Saturday in an 11 aside U13 league. Every two or three weeks we will play exhibition games on Wednesday against peers of preferably other professional clubs. This season we started a friendly competition on Wednesday with a number of major professional clubs in the region (7 a side).
Please describe how does the standard training session of the U11 first team look like.
The Monday and Wednesday training sessions of U11 are largely dedicated to technique and match like exercises. On Thursday we prepare for Saturdays league match and train more tactical. We start the sessions with a good warm-up, continue then as much as possible with the ball and regular coordination forms. Then we continue the training with technique (first touches and control, passing, shooting, dribbling, etc.). We then put these techniques to test in match like training situations.
Do you train on the artificial or natural grass? Do you play in the gym (futsal)?
We train and play on different surfaces. Regular training sessions and league matches are on grass or artificial grass, but during winter we train indoors every now and then.
We also play indoor tournaments, mainly in Germany. In recent months we have also started training a in the boroughs of Rotterdam or Cruyff Courts to allow player to train as versatile as possible.
How do you transform the fun of playing football into the professional football? 
Nourishing the element of fun is a key pillar throughout all of the academy, and I would say Feyenoord as a whole. We at the Feyenoord academy strongly believe that if you do what you love and are dedicated to succeed this will bring out the best in you.
How do you work with young football players on their general physical/movement abilities. Do they do any other sports like judo, gymnastics, etc.?
We believe that young players must exercise a lot to become a versatile and agile footballer.
At the club we pay attention to a couple of basic forms of exercise in our training sessions. Next to that we are working on coordination. In the U11 we only have three sessions to improve the boys. That is why our courses always are devoted to football. We always use the ball, as there is so much to gain as a footballer at this age.
How about mental skills? Is there any specialist who works with the children?
Within Feyenoord we have a performance coach. He does classes with players of U13 to U19 on dealing with the pressure that comes with professional sports. He also educates the players in optimum performance under various conditions. These classes are sometimes extended in individual coaching sessions for players that could benefit from this.
Can you tell us what does physical education look like in the Dutch school? Is it on a high level? What sports/exercises do the children do? How many hours per week?
Children playing in our U11 are in primary school and attend 2 to 3 P.E. lessons of 45 minutes each. In most cases, these classes are taught by a specialist teacher with a sports academy background.
Besides the gym classes, most U11 players play a lot outside in the streets as well. In high school players have about the same number of physical education classes but also train 4 to 6 times a week with us, leaving less time left over to play football outside when at home.
Does Feyenoord Academy cooperate with selected schools?
Feyenoord works with Thorbecke College in Rotterdam. Players aged 13 and older attend this school. Their schedule allows for regular training sessions at Feyenoord during the week.
Of course we ensure that school and football combine properly through continuous guidance. Communication between school and Feyenoord is essential in this. For players aged 16 to 19, classes are given at Feyenoord 2 times a week. These classes are given by the professional teachers. This allows for more training sessions and focus as players are at the club all day.
Players of primary school age attend school in their own neighborhood. They come to Feyenoord afterwards for their training sessions. Sometimes we offer transportation.
In your opinion what determines the success of the Dutch football academies such as Feyenoord or Ajax?
In the Netherlands there is a lot of football clubs (both amateur and professional). This means that virtually every child has the opportunity to play football (training and competition). Because the country is not large, we have a lot of insight in the talented players in the Netherlands. The best players are therefore easier to pick for big clubs like Feyenoord. Therefore, from a young age on, the best play amongst each other. In addition, young footballers are given a lot of opportunities to make their debut in Dutch professional football leagues. As a result they develop well and can often make the move abroad to become an even better player.
You Participated in Legia Cup. Can you please tell your observations regarding the difference between Polish players of Legia Warszawa and the players of the top european academies i.e. Feyenoord?
Polish footballers are hard working with a good attitude and strong desire to win. In addition, they often have a good basic technique. They also are team players. However, they can sometimes show some more bravoure and courage and their technical skills could be on a higher level. They should not hide or be afraid to show what they are capable of.
In our game against Legia Warsaw we came up 2-0 and thought to get an easy win. However, the players of Legia did not give up and fought their way back into the match. They eventually won 2-3. A well deserved victory and a good lesson for our lads.
How often do you play with the teams from other countries. Is it important to you?
 At Feyenoord we think it is important to allow players to get acquainted with playing international matches early in their career. In addition, we are always looking for opponents that are strong. Therefore we play various international tournaments and exhibition games. For example against Anderlecht and KRC Genk example from Belgium, but we also play Southampton in England.
How did it happen that you became the coach of U11 team at Feyenoord? Is it your only occupation?
Before I became coach of Feyenoord U11, I was full-time gym teacher at primary schools in Rotterdam. Besides my work as a PE teacher, I was football coach at various amateur clubs in the region.
3 years ago I applied for a job as a coach at Feyenoord Rotterdam. I was hired after several interviews and tests, and since then I coach the U11. Until last summer I combined the Feyenoord job with gym classes at school.
Last summer, Feyenoord offered me a fulltime job as coach of the U11, combined with the co-organizing and coordinating talent days and supporting the substructure coordinator. I seized this opportunity and love the job ever since.
Have you been the professional football player?
No I haven't. I played at a high amateur youth level. In my early years as a senior player, I injured my knee and did not recover well. From that moment on I focused fully on becoming a coach.
From your observation how many football players that start at Feyenoord Rotterdam Academy U11 category have a chance to become professional football players?
Over the last decades Feyenoord has proven to develop youngsters into skilled players that make the first team. Some of them even became world class and well known players, such as Robin van Persie. A lot of those players have been with us from a young age. Without pointing out individuals and based on statistics I can say that players in our U11 definitely have potential to make it to the first team.
Can you please tell us the names of the top players that began in Feyenoord at U11 level?
Today:
Robin van Persie (Feyenoord, Arsenal, Manchester United, Fenerbahce and all time leading scorer of the Dutch national team)
Georginio Wijnaldum (Feyenoord, PSV, Newcastle United, Liverpool and the Dutch national team)
Stefan de Vrij (Feyenoord, Lazio and the Dutch national team),
Jeffrey Bruma (Feyenoord, Chelsea, PSV, Wolfsburg and the Dutch national team)
Jordy Clasie (Feyenoord, Southampton, Club Brugge and the Dutch national team)
Jonathan de Guzman (Feyenoord, Mallorca, Villarreal, Swansea City SSC Napoli, Carpi, Eintracht Frankurt)
Nathan Ake (Feyenoord, Chelsea, Bournemouth)
Daryl Janmaat (Feyenoord, ADO Den Haag, Heerenveen, Feyenoord, Newcastle United, Watford and the Dutch national team)
Leroy Fer (Feyenoord, FC Twente , Norwich City, Queens Park Rangers and suits for the Dutch national team).
Marten de Roon (Feyenoord, Sparta Rotterdam, Atalanta Bergamo, Middlesbrough, Atalanta Bergamo and the Dutch national team)
Royston Drenthe (Feyenoord, Real Madrid, Hercules CF, Everton) released for the Dutch team)
Terence Kongolo (Feyenoord, AS Monaco and the Dutch national team)
Karim Rekik (Feyenoord, Manchester City, PSV, Olympique Marseille, Hertha BSC)
History:
Giovanni van Bronkhorst (Feyenoord, Glasgow Rangers, Arsenal, Barcelona, 106 caps for Dutch national team)
Gaston Taument (Feyenoord, Benfica , Anderlecht, OFI Crete, Rapid Vienna and 15 caps for the Dutch national team),
George Boateng (Feyenoord, Coventry City, Aston Villa, Middlesbrough, Hull City and four caps for the Dutch national team)
Bobby Petta (Feyenoord, Ipswich Town, Celtic, Fulham)
Wim Jansen(Feyenoord, Washington Diplomats, Ajax, 65 caps for the Dutch national team,
Joop Hiele(Feyenoordand seven caps for dutch team)
Sjaak Troost (Feyenoord and four caps for dutch team)
Bennie Wijnstekers (Feyenoord and 36 caps for the Dutch national team)
Stanley Brard (Feyenoord)
Jan Boskamp (Feyenoord RWDM, Lierse SK, 2 caps for the Dutch national team)
Joop van Daele (Feyenoord)
Willem van Hanegem (Feyenoord, AZ, Chicago Sting, FC Utrecht, Feyenoord and 52 caps for the Dutch national team)
Coen Moulijn (Feyenoord and 38 caps for the Dutch national team)
Now the question about parents: What is their attitude and involvement towards their children playing football and the Academy? Are parents allowed to watch the trainings? What can parents do and what is not allowed?
Parents of children in the Feyenoord academy are involved in their child's development but at an appropriate distance. With the youngest age groups this distance is slightly shorter, than as players get older.
Especially with the younger children parents attend practices and games. However, we do not want parents to interfere with the advice and guidance the coaches give them. Parents and coaches frequently communicate with each other by phone or face to face. 3 times per year we conduct evaluation interviews with the players and in these sessions the parents are present. Of course we have this conversation with the player and want him to speak for himself. But also for parents there is room to raise topics and questions.
Would you like to add something important that I did not ask for?
We would like to thank the Polish hosts for their hospitality we experienced in the tournaments in Poland. The tournaments are well organized, the hotels are wonderful and we play against big clubs. We continue to like to come to Poland to play at these wonderful tournaments.