Please tell me something about yourself.
Hello, my name is Grzegorz Och. I have been football's passionate since childhood. I started my adventure with the ball at the age of 10, when my father took me to the local club named GKS Bełchatów. I went through all training levels there, unfortunately due to poor physical conditions, 170 "in the hat" I did not get a chance to play on the highest professional level.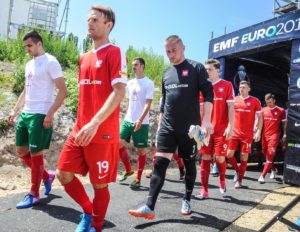 At the age of 19, I made the decision to continue my education in Warsaw. I started my studies at the Higher School of Education in Sport with a specialization in coaching and management. Football went aside … However, I was passionate about the streetball and playing in a small space where there are many contacts with the ball, in contrast to the traditional football.
In 2007, I contacted the representative of the University of Warsaw with a question about the possibility of testing my skills in the futsal team, which in the 2007/08 season performed at the level of the Futsal First League in Poland. After few trainings, I became a full-fledged player.
Wywiad w języku polskim dostępny TUTAJ
At the end of the season, I changed the academic team for the team Grembach Zgierz, which in the 2008/09 season also performed in the First League. In 2009, I returned to the Warsaw University of Science and Technology in Warsaw and this is where I continued my adventure with futsal until June 2017. With the new season 2017/18 I decided to change the club colors. Presently, I represent the colors of last year's vice champion of Poland – Gatta Active Futsal Team Zduńska Wola.
In the meantime, I got the chance to represent Poland in Futsal in Serbia in 2010 and in a 6-person football at last year's European Championships in Brno, Czech Republic. From 2009, I combined playing for AZS University of Warsaw with the work as a football coach.
My coaching career began in Warsaw's club called "Sarmat", where I spent three years.
In 2012, I received a great opportunity to become a coach in the football project FCB Escola Varsovia, based on the training system of the great Spanish club FC Barcelona.
Looking into the past, it can be said that this opportunity was a small destiny. The first shirt I received from my Dad was the memorable FC Barcelona T-shirt with the number 21, in which Luis Enrique played. I remember the period spent in FCB Escola Varsovia with great sentiment, it was a time full of sports' successes. I had the opportunity to see Xavi – the legend of the Barcelona – and I even shaked his hand when we picked up the cup for the second place at the FCB Escola CUP in Barcelona. In June 2017, I made a life changing decision which resulted in leaving the Spanish project.
You trained and created the best team of 2007 age category in Poland. What were your biggest problems? What obstacles did you encounter? What was the biggest challenge?
 I got the chance to work with a group of boys who were extremely willing, committed and determined to work hard and strenuously. Perhaps this is also my conribution, because I repeatedly told boys that only through hard, conscientious and persistent work we can achieve something together. During these years of work we have achieved spectacular successes, which are the result of a huge effort put by these boys. The biggest challenge was learning mutual respect for a team-mate. Boys outside the field do not have to be great friends but they have to create a well-coordinated team on the pitch, leaving a dislikes on the side track.
If you would train this team again, would you do it in the same way or modify anything?
 Looking back, I think that in general I would lead the team in a similar way. However, I would certainly pay more attention to the development of players' individual skills.
You have observed the work of many prestigious academies, including Dynamo Zagreb. What differences in the approach to the training of children you noticed between their system and the system of the average Polish club?
Comparing the work of the mentioned Dynamo Zagreb in relation to Polish clubs, the difference is that the main assumption of the Dynamo Zagreb's academy is "production" of footballers who with their skills and individual predispositions will fit in each system.
Thus, many players represent the colors of the top European clubs such as Real Madrid (Modric, Kovacic) Juventus (Pjaca) or Liverpool (Lovren). In Poland, the main matter is the result and victory, sometimes achieved at any price, for example by playing so-called "long ball" to dismiss the threat from your own football gate. Another example is that in a smaller club or academy "X" there is a talented player, whom the coach should help to be promoted to a better club with the purpose of the player's development, and what often happens is the coach tries to keep the player at all costs in the current place, because with his departure the team will fall apart etc.
There is a clear path in Dynamo, where the main assumption is the development of individualities and their "sale", who with their quality are able to "defend themselves" on the pitch in other clubs. In a Croatian academy, more universal players are trained, who often play on different positions. On the other hand in Poland you can often observe a premature specialization towards a young football adept who can spend many years playing only on one position in his club.
Can any Polish academy compare with, for example, Dynamo Zagreb, and if not how far we are behind them?
From what I observe the academy of Zaglebie Lubin implements a similar model of training Zaglebie Lubin also has fantastic conditions in terms of sports infrastructure. Another academy that is characterized by very good work with youth footballers is Lech Poznań. A similar model of training is taken by Legia Warszawa, which evolves and focuses to a large extent on individual training.
What are the differences between boys from western academies and those trained in Poland?
Definitely the most noticeable difference between the boys from the western academies and those trained in Poland is the mental approach to their duties. The young adepts are definitely more committed and determined than our players, which translates, for example, into the intensity of the activities. The desire is visible in their actions, and even I would define it as "crave to win", positive sport's aggression, which is characterized by relentnessness and courage. We Poles are malcontents, our approach is characterized by constant complaining, for example: the exercise is boring, or it rains, is cold and parents will not let their kids to train. At the same time, when the coach does not observe the athlete, he often does not perform exercises in 100% engagement. At the end, it has influence on his development, he takes on bad habits, seeking excuses etc. In the West, players who train in the top academies are more aware of what they are striving for and who they want to be.
What can not be improved when neglected in childhood?
I think that everything can be improved, but with each passing year it will be much more difficult.
From the perspective of the player and the coach, I believe that the most difficult element to improve is the technique, which is the basic tool for implementing tactical assumptions.
Where, according to you, is the boundary between creativity on the pitch and correcting mistakes in childhood. In what situations should the coach correct mistakes and how should he do it?
In my opinion the trainer should rarely interfere with the player's game, let him make mistakes in childhood. However, if the coach notices the mistake made by the player for the 5th, 10th time … I think that he should ask constructive questions for the player's individual analysis so that the player tries to find an alternative or solution to reduce or eliminate errors in the future.
What in your opinion is the definition of the palyer of the future?
Technical – Athletic – Intelligent
I think that football is evolving towards a more athletic perspective, where strength and speed will play a significant role. In addition, players will always have to be very well trained technically to implement tactical assumptions, and besides they will have to be intelligent, I mean here the so-called. game reading, anticipation etc.
Why did you decide on your own training system for young footballers?
Since I was a child, the ball was my friend. As a 15-16 year old, in my free time I gathered around volunteers aged 6-8 and tried to encourage them to play football, show them technical basics and teach in some way. When I was young I dreamed about being a great and famous footballer playing for the FC Barcelona but life and destiny, as you can see, had definitely different plans for me. I took up a coaching job at a rather young age, because I started my first coaching steps at the age of 21-22. Within the time, my football activity was more and more difficult to combine with the work at the FCB Escola Varsovia academy, so I engaged myself in the project, pushing my football adventure to the side, limiting myself and playing in the free time in the league of six. At some point in my life I had to take a difficult decision, which concerned the resignation from a fantastic international project – FCB Escola Varsovia. Looking retrospectively, I believe that the period spent in FCB Escola Varsovia has allowed me to develop not only as a trainer but also as a player. Looking at the realities of today's youth football, I see huge reserves in the individual training of young players, hence the idea to create a project that would complement the training process carried out in the clubs.
What are your expectations towards the Elite Academy?
The goal of this project is to help players to develop comprehensively in terms of individual skills. The idea behind the project is that the best players from Warsaw and the surrounding area could train and compete with each other in order to improve their skills. In addition, we want to offer players a full range of various "tools" read: skills that will be successfully used by the players in their home clubs.
The greatest satisfaction for me will be when the boys in the future will be at least in the Polish 1-league and I wish them an international career and representation of national colors in great football events.
What would you advice talented young footballers?
Perseverance and faith in your dreams, because as it is said, nothing is impossible to achieve, everything must be supported by diligent hard work and humility. Besides, as one of the greatest basketball players in history Michael Jordan said – "Once you give up, it can become your habit, never give up" hence this perseverance and faith, thanks to which people can create and realize amazing, sometimes even unreal projects.
What would you advise their parents?
Observing what is happening behind the side line of the pitch (Parents), I would advise parents to be less emotionally involved with the actions their child makes on the pitch. Does any of the player come to play a "weak game"? Look for positives in their game, despite making mistakes, encourage them, no one likes critics, let children make their own decisions.
The score needs to go to the side track; in junior games it is a secondary matter for me.
In fact, in a month, a year it will be history, although it is obvious it builds the mentality of the winner because we are playing in order to win.
To sum up: only positive stimuli, emotions and boundless support of your child in achieving the set goal matters.
Do you think that to achieve football success you have to go abroad?
It depends what we mean by saying football success? In my opinion it is not necessary, for example, to train a player on the level of the Polish Premier League. However foreign experience and education also is beneficial. In Poland there are several, very good academies for young people, where there are excellent coaches who know what football is about.
Where would you leave if you had an unlimited choice and why?
If I had an unlimited choice then my choice would probably be the German direction, because I think that Germany shapes the players comprehensively, they put importance on the youth, and besides that, Germany is famous for its tendency to perfectionism.
In your opinion is it worth to be a football player and if yes why?
I think it is worth being a football player, but it is not an easy path. However, if the children's dreams of being a professional high-level footballer have a chance to come truth, I think that it is a fantastic stage of life that allows to realize oneself, and finally achieve satisfactory financial gratifications that allow to realize the other life plans.
And why isn't it worth to be a football player?
The road to becoming a football player is long, full of sacrifices and failures. It is a risky profession, where one injury can cancel our further sporting career.
Do you think that at the age of 10-11 you can pick out individuals capable of achieving football success?
I believe that it is possible to identify individuals who have a better chance of achieving football success. However, it is also not possible to cross out those individuals who are less talented, because in the long-term, with the hard, consitent and persistent work you can achieve much more than those who were considered the most talented. An example of such a story is Simon Kjaer – a representative of Denmark, who was crossed out in the young stage of his football adventure by the coaching staff, and later represented the colors of Italian Palermo, AS Roma or Wolfsburg. Today he plays for Spanish Sevilla, and besides that he has played 71 games since 2009 in the national team of Denmark.
In conclusion one can identify talented individuals who can achieve football success but they must be aware of their duties, sacrifices and failures that await them on the way.
What is the parent-coach cooperation model?
The model of cooperation between the parent and the coach should be a partnership. The coache's role is to train, give instructions, strengthen the involvement of the players. The role of parents should be supporting, encouraging, raising their children, as well as respecting the position of the trainer. Often you can see behind the sidelines of the pitch the "weekend parent football coaches"who instruct their children how to play. Here you can often encounter a conflict of goals: a trainer and a parent, for example, a parent wants his son, midfielder, 1-on-1 matches and shoot as many goals as possible, while the coach's vision in relation to this player is that the midfielder is the creator of the game and is the champion of the last pass because the coach notices this skill in him. Therefore, the cooperation between the trainer and the parent should be based on partnership, taking into account the goals of the trainer and duties and tasks of parents.
Please quote your "golden thought".
In my life I follow the simple rule, as Pele used to say, "success is not a coincidence, it is hard work, perseverance, learning, analysis, sacrifice and, above all, love for what you do."
In addition, I often repeat my students that if they are not 100% involved in what they do, they "cheat themselves, not me" as a trainer. In fact, players must be aware of motivation towards work and know what they are aiming for.
What would you add from yourself that was not disscussed?
I would also add a quote from one of the best coaches – Josep Guardiola, who noticed in our fantastic striker Robert Lewandowski the reserve in technical training.
Encouraging him to improve his technique, he referred to Robert saying, "Do everything at a hundred percent. Every play, exercise. It does not matter if it's a workout or a match or a warm-up. Do every exercise with the ball well. "
Such an approach to the duties will be useful both at the sports, education and life generally. We should strive for perfectionism, and we should say firmly NO to mediocrity and unreliability.